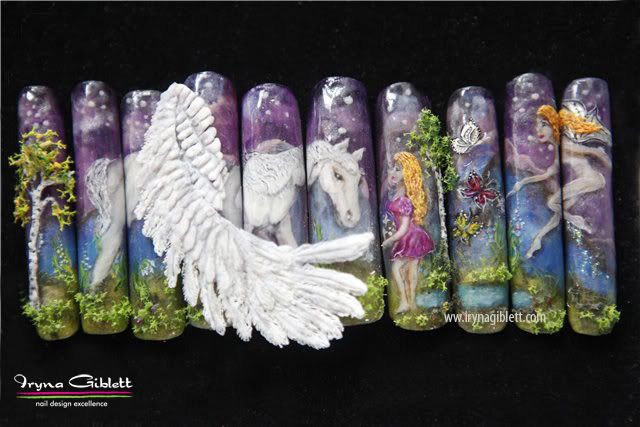 Since we started Iryna Giblett Inc and developed our own professional nail products, Bob and I have been traveling so much that I've had to give up my salon work. I miss the clients, especially the customers who wanted nail art, but it all became too stressful trying to juggle everything.
Still I love making nails and I think it's important that I keep developing my skills, so other nail techs and our Educators see that I'm trying to lead by example and can understand why our products are the quality they are.
So the work above is my latest practice piece. It's mixed-media, with most of the figures created with acrylic and embedded. The external details are the tree, horses wing, girl and fairy's hair and the fairy's wing.
Some of the smallest details were painted with acrylic paint, but very little. The fairy and girls hair were made with our new InpirationZ metallic acrylic powders and as you can see in the photo, they've caught the light beautifully!
I'm already working on my next piece. But Shhhhh! Tell you more later!
Read more about our nail art products here:
http://www.irynagiblett.com/en/product-category/nail-art